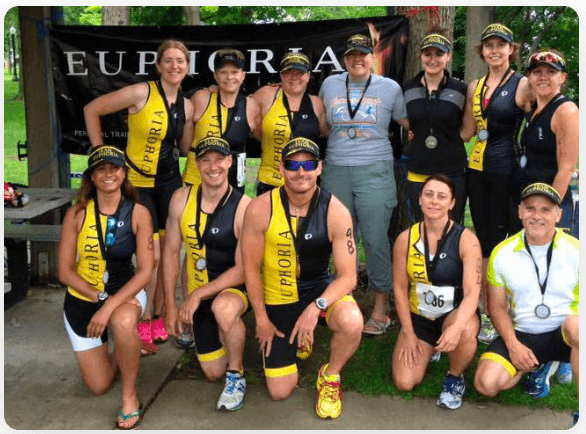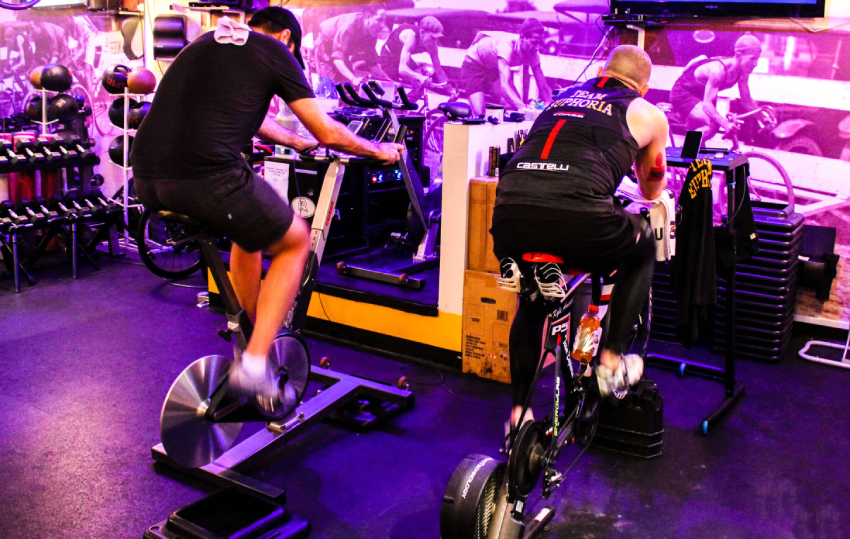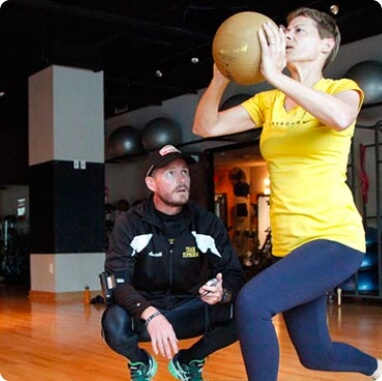 Our training staff has completed more than 16 Ironman Triathlons and 50+ other triathlons. Since opening our doors in 2007, we've helped hundreds of people just like you surpass their goals by creating personalized fitness plans and holistic training programs, offering support every step of the way.
Kyle
Coach Kyle has completed two full-distance Ironmans, 10 half Ironmans, 35 Olympic distance triathlons and 25 sprint distance triathlons. He's an Athletics and Fitness Association of America (AFAA) certified personal fitness trainer. Kyle has a degree in sports nutrition and counseling from the University of Georgia.
Jenny
Coach Jenny is a Euphoria Health & Fitness client turned Euphoria personal trainer and fitness expert. She's been a coach for over 10 years — spearheading the obstacle course and boot camp programs for several of those years — who loves working with clients on the obstacle course and in boot camps. Outside of work, Jenny enjoys competing in Ironman 70.3 races and is beginning to enter the world of ultramarathons.
Erin
Coach Erin has been a personal trainer and fitness instructor at Euphoria Health & Fitness for over 13 years. Previously a teacher who had always enjoyed working out and taking fitness classes, Erin felt like becoming a trainer was a natural transition. Erin specializes in women's health and focuses on both exercise and personal nutrition. She tries to create comprehensive fitness packages that are customized to specific client needs and thinks nothing is more rewarding than helping someone surpass their fitness goals.
Thom
Coach Thom is a National Strength and Conditioning Association (NSCA) certified personal trainer with over 20 years of experience. At Euphoria Health & Fitness, his specialties are swim/triathlon training, Olympic weightlifting coaching, weight loss and general conditioning.
Dave
Coach Dave is certified through the National Academy of Sports Medicine (NASM), one of the four major accrediting agencies. Dave's extensive background allows him the ability to help clients on their individualized path to success. He lives by the mantra: "Your success is my success." For 29 years, Dave has trained with Division 1 college athletes, body builders, powerlifters and CrossFit coaches. He prides himself on designing individual programs that are tailored to each individual's goals.
Tony
Tony Sigmund is a Certified Personal Trainer, Orthopedic Rehabilitation Technician and Self Defense Instructor who, like the rest of the staff at Euphoria, practices what he preaches with passion. 
"Unorthodox training for unorthodox people" is how Tony describes his training methods, as he's developed a system for himself and others that consists of structural and functional training, combining balance, strength, cardiovascular and flexibility, often in the same workout, right from day one of training. He begins with an assessment that is an actual workout but gives him an accurate picture of a client's needs and progresses the workouts in intensity as time goes on.  
His journey to overcome anxiety, depression and bipolar disorder inspired Tony to learn about more about the mind, including becoming a Certified Hypnotherapist, in order program himself for success and working through temporary setbacks. He now shares these things with clients during sessions when requested, and with the general public through talks he gives at local libraries and other speaking venues. 
The physical and mental techniques Tony uses has helped him achieve many positive things, such as recently setting the World Record for fastest marathon ever ran by someone with two hip replacements (actually, three) in only his second marathon in 10 years due to the hip and lower back issues and ensuing surgeries. 
Let Tony's expertise, education and experience work for you in unlocking your inner potential! Contact him at the club, or call/text (216) 317-4323.  Also, follow him on Twitter @GetHipFitness      
What Our Clients Are Saying